Daspletosaurus Model Kit 1/10th Scale Resin Assembly Kit $149.99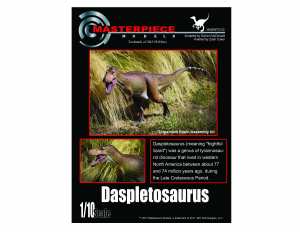 The Daspletosaurus Model Kit is now available at Masterpiece Models.  This 1/10th scale kit was sculpted by Darren McDonald. box art paint by Zach Coker.  KIT #MMDM70133.  Masterpiecemodels is a trademark of JS Hobbies.  Please allow 15 days for processing as each kit is cast to order.
Masterpiece Models manufactures and sells the highest quality resin assembly kits on the market today. Featuring kits for a variety of interests including Dinosaurs, WWII, Vietnam, Scifi, and aircraft bases. We have acquired the rights to a large selection of the Custom Dioramics line that are now available through us as resin assembly kits. We manufacture our kits onsite at our Vancouver, Washington USA fabrication and casting shop. Interested in other scale Dinosaurs models? Check out our Dinosaurs Page by clicking here.
What We Know About the Daspletosaurus
Daspletosaurus (meaning "frightful lizard") was a genus of tyrannosaurid dinosaur that lived in western North America between about 77 and 74 million years ago, during the Late Cretaceous Period. The genus Daspletosaurus contains two species. Fossils of the earlier type species, D. torosus, have been found in Alberta, while fossils of the later second species, D. horneri, have been found only in Montana. A possible third species, also from Alberta, awaits formal identification. Daspletosaurus is closely related to the much larger and more recent tyrannosaurid Tyrannosaurus rex. Like most tyrannosaurids, Daspletosaurus was a multi-tonne bipedal predator equipped with dozens of large, sharp teeth. Daspletosaurus had the small forelimbs typical of tyrannosaurids, although they were proportionately longer than in other genera. As an apex predator, Daspletosaurus was at the top of the food chain, probably preying on large dinosaurs like the ceratopsid Centrosaurus and the hadrosaur Hypacrosaurus. In some areas, Daspletosaurus coexisted with another tyrannosaurid, Gorgosaurus, though there is some evidence of niche differentiation between the two. While Daspletosaurus fossils are rarer than other tyrannosaurids', the available specimens allow some analysis of the biology of these animals, including social behavior, diet and life history.