Description
Massive Ordnance Air Blast
The basic operational concept of the Massive Ordnance Air Blast bears some similarity to the BLU-82 Daisy Cutter.  Pentagon officials suggested that the MOAB be used as an anti-personnel weapon, as part of the "shock and awe" strategy integral to the 2003 invasion of Iraq.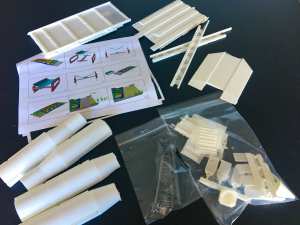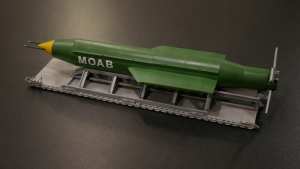 Masterpiece Models manufactures and sells the highest quality resin assembly kits on the market today. Featuring kits for a variety of interests including Dinosaurs, WWII, Vietnam, Scifi, and aircraft bases.
Click here to shop for more of our Resin Model Kits.
Masterpiecemodels is a trademark of JS Hobbies and Crafts ©2018 JS Hobbies and Crafts
More Modern Bomb Kits and Tools
Click here for more modern bombs resin model kits.
Follow Us on Social Media
Follow us on social media to get updates on the latest model kits and model tools from Masterpiece Models.  On our Facebook page, you'll get new products sneak peeks and manufacturing processes from our shop.  You may even catch us in the process of making YOUR resin model kit!